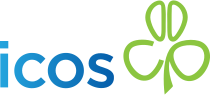 About our Promoting Agency
The Irish Co-operative Organisation Society (ICOS) is a unifying force for the Irish co-operative movement.
Our core business is to provide vision, leadership and value to the co-operative movement in Ireland. We use our collective voice to put the needs of the co-operative movement and our member co-ops to the forefront of what we do. We draw upon the pioneering, innovative and tenacious spirit of our founding members to help strengthen our co-operatives operating in today's ever changing and competitive world.
ICOS member co-operatives and their associated companies collectively have over 150,000 individual members, employ >12,000 people in Ireland (a further 24,000 abroad) and have a combined turnover of almost €15 billion. Starting from agriculture co-op roots, and the vision of our founding President, Sir Horace Plunkett in 1894, ICOS today has evolved to serve the co-operative
sector in seven core categories, namely:
Multipurpose dairy co-ops
Livestock sector co-ops
Store, trade and wholesale co-ops
Service-related co-ops
Community-oriented, culture and leisure co-ops
Food, fishing and beverage co-ops
Advisory and education-related co-ops
Generating leadership, competitiveness and value through stronger co-operation and world class service
Visit Promoters Website

"ICOS skillnet has been crucial in supporting the development and delivery of our learning and development within the business."
"Their support in the development of courses has been hugely beneficial with access to industry working groups to help shape the training to best meet our business needs. It is also through the ICOS network that we have been able to access the best trainers available to deliver the training and add real value to our learning and development programmes year on year. Our staff, and the overall business in general, have benefited greatly from ICOS and this is a major factor into our continued support of this network"
Read more
Stephen Hickey - HR Business Partner
Glanbia Agribusiness

"Bandon Co-op are strong advocates of continuous training and without question improved knowledge is an essential component in the skillset of our staff who in turn contribute to the success of our organisation."
"We have been associated with ICOS/Skillnet for a number of years now and the best thing about this partnership is they provide educational course content that is relevant to our specific industry. Recently ICOS/Skillnets developed their own Management Development Programme and was rolled out earlier this year. The key aim of this programme is to improve the capabilities of middle management and those wishing to enter management. Feedbackfrom our participants on the programme to date has been very positive due to the highly interactive learning environment"
Read more
Michael O'Driscoll - Purchasing Manager
Bandon Co-op

"Dairygold Co-Operative Society have engaged with and have been supported by ICOS Skillnet on our Learning and Development agenda over many years."
"From a business perspective we have partnered with the ICOS skillnet network in sourcing and supporting training initiatives across all levels of our organisation. The return on investment and the knowledge transfer have been to the forefront on evaluating all training initiatives. ICOS Skillnet have continually delivered to ensure our training interventions meet the learning objectives through their wide range of training providers. The network and its training providers have a deep understanding of not only the industry but of each member company. I, as HR Manager, look forward to continuing our engagement and involvement with ICOS Skillnet."
Read more
Philip Ducie - Human Resources Manager
Dairygold Co-Operative Society